Need a solution for the quick removal of hydrocrabons from stormwater run-off? With over 45 years experience working with environmental products such as oil water separators we have the experience and expertise to help your business.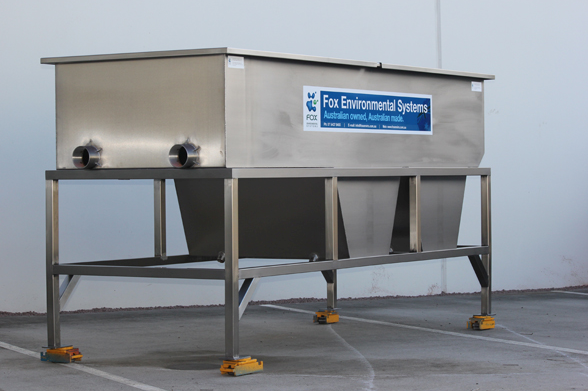 What is an oil water separator?
Oil water separators are used to remove contaminants such as non-emulsified oil and grease, along with suspended solids and sludge from wastewater runoff prior to being safely discharged to the sewar network.
If your business produces water runoff in any capacity e.g. vehicle washdown, or you discharge wastewater to the stormwater or sewer network you may be required to utilise an oil water separator to ensure the wastewater you discharge is compliant with local wastewater regulations.
Fox Oil Water Separators
Environmental Equipment Engineering is the United States distributor for the full range of Fox Environmental products, including Fox oil water separators. Contact us today for a free consultation.
Fox Oil Water Separators are enhanced gravity separators and are effective in the removal of non-emulsified oils and suspended solids from stormwater runoff. They are designed to reduce effluent oil content to less than 30pmm or lower in controlled situations.
Constructed from quality stainless steel, Fox Oil Water Separators have an enviable reputation for durability and performance and come complete with low voltage controllers, pump and float switch.
Available in a range of flow rates from 1000 l/ph to 200,000 l/ph there are options available for businesses of all sizes and requirements.
How Does an Oil Water Separator Work?
While an extremely effective product for the treatment of wastewater runoff, the process in which an oil water separator operates is actually quite simple, and is based on the concept of density and gravity separation e.g. the gravitational differences between oil and water which controls the rise velocity of oil droplets based largely on density and water properties.
Here's how the process works:
Wastewater containing oils and grease, suspended sludge and particulates is pumped into the main chamber of the oil/water separator.
Heavier suspended sludge and particulates begin to float to the surface and are caught in the slide hopper (a device used to shift material from one contained area to another).
Wastewater is then pumped up to the incline plates where it begins to separate and form oil droplets due to the counteracting cohesive forces of oil and water which results in oil droplets being formed. oil attracting incline media packs are fixed inside the main chamber.
The heavier particulates drop to the bottom of the system, forming a sediment layer where they are picked up by the sludge hopper while the remaining oil droplets settle on the top of the water due to the lower density of oil compared to water. The wastewater sits between the sediment and oil layer.
The mixture travels through the coalescing plates where particles of oil become attached to the coalescing plates, and form larger particles.
The larger particles are released and settle on the top of the water mixture where they are distributed to an oil storage tank.
The separated wastewater is then transported to the water chamber where it passes through an additional cleaning plate before being discharged as wastewater.
Business which use oil water separators
A number of business utilise oil water separators, these mostly involve businesses that operate vehicles, both heavy and small vehicles and have a vehicle washdown requirement as part of their operations. These include:
Vehicle dealerships and workshops
Fuel stations
Plant and equipment hire businesses
Mechanics, Panel beaters and electrical engineers
Vehicle washdown businesses e.g. car washes or on site truck, heavy equipment and fleet car cleaning services
Mining and construction companies
Additionally separators can be used
Protecting the Environment
Oil water separators play a vital role in the treatment of wastewater prior to discharge.
Because wastewater discharge flows untreated directly to local waterways. Preserving the quality of wastewater is vital for the health of local fauna and flora and preserving water quality of our waterways.
Business owners that do not take adequate measures to ensure the treatment of wastewater prior to discharge face the risk of heavy fines from local water authorities along with the risk of prosecution.
Speak to us today
Environmental Equipment Engineering have been providing effective and durable environmental products, including oil water separators, silt traps, floating aeration equipment and washdown diversion systems for over 45 years, along with expert advice to assist businesses with environmental compliance.
Speak to us today by filling out the form below or calling direct on 804-730-1280.
Fox Oil Water Separators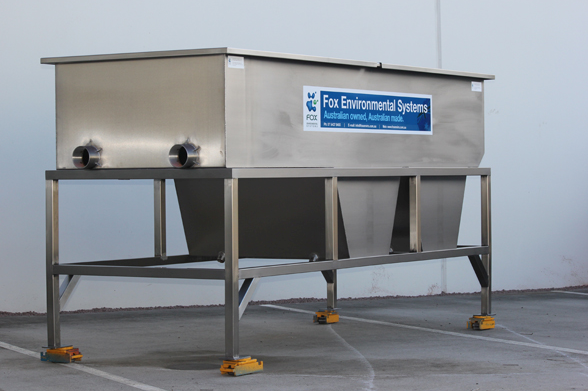 Need a solution for the quick removal of hydrocrabons from stormwater run-off? With over 45 years experience working with environmental products such as oi
Product In-Stock: 1